Tempestuous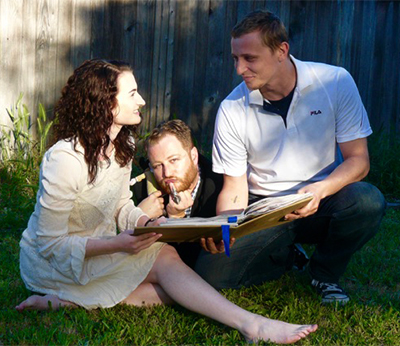 On the banks of the Russian River in a small town called Guerneville in Northern California, a former commune now rental cottages called The Island, sits and waits. Once the home of a magical sub-culture of peace and nature, it is about to host a re-awakening of magic, love, and golden fish!
The Professor dabbles in magic seeking to return a lost love. The witch Roxy seeks to return to the power of her youth. The children Cal and Andy seek sanity; and the spirits Truniculo and Stephano seek to sow chaos and gain their freedom. But in the end, perhaps the most important part is that everyone is seeking family.
Tempestuous, a modern adaptation of the Tempest written in contemporary English, will delight Shakespeare lovers and haters alike. It was written by Merlyn Q. Sell, an alum of SSU and author of the Theater Bay Area's featured play Tonight at the Palace, and of the much-loved Circus Acts. Tempestuous is directed by Beulah Vega.
The cast includes Alexis Long Christenson, Nick Christenson, Paul Menconi, Jana Molina, Conor O'Shaughnessy, Olivia Rooney, Rusty Thompson and Noel Yates.
Performances will be at the Riverkeeper Park beginning June 9 and running through June 25. All performances will begin at 6 p.m. Advance tickets are $18 or $25 depending on seat selection and may be purchased in advance online at pegasustheater5.brownpapertickets.com or by calling 1-800-838-3006.
Venue: Riverkeeper Stewardship Park
Map: Riverkeeper Stewardship Park
With thanks to The Heck Foundation.