Give Back Tuesday Benefit for Pegasus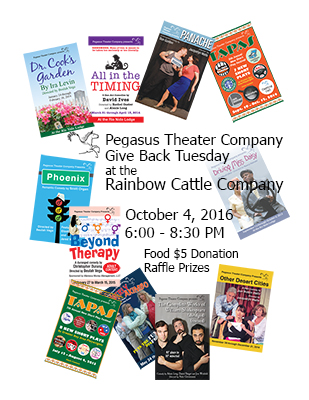 On October 4, the Rainbow Cattle Company's Give-Back Tuesday is for the benefit of Pegasus Theater Company.
From 6 – 8 p.m., Pegasus will present a dramatic display of its cooking talents for a suggested minimum donation of $5. There will also be a fine array of raffle prizes and the Rainbow will donate 10% of the bar proceeds.
Come eat, drink, win a nifty raffle prize, and—thanks to the generosity of the Rainbow —help support your feisty local theater company.
The Rainbow Cattle Company is located at 16220 Main Street, Guerneville (on the north side of Main St. between Armstrong Woods Rd. and Church St.)